Borrego Springs, the first official International Dark Sky Community in California dedicated to protecting the sky from light pollution, is the perfect location to capture the beauty of the night sky.
Known for its amazing display of desert wildflowers, Borrego Springs is also home to 150 of sculptor Ricardo Breceda's supersized prehistoric and fantastical beasts.  In this International Dark Sky Community, you'll learn painting-with-light and time-lapse photography techniques to capture some of the giant sculptures with stars and star trails in the background after dark.  Come explore the amazing metal sculptures of the Borrego Valley such as the Giant Scorpion, Serpent and Mammoth, through your camera lens.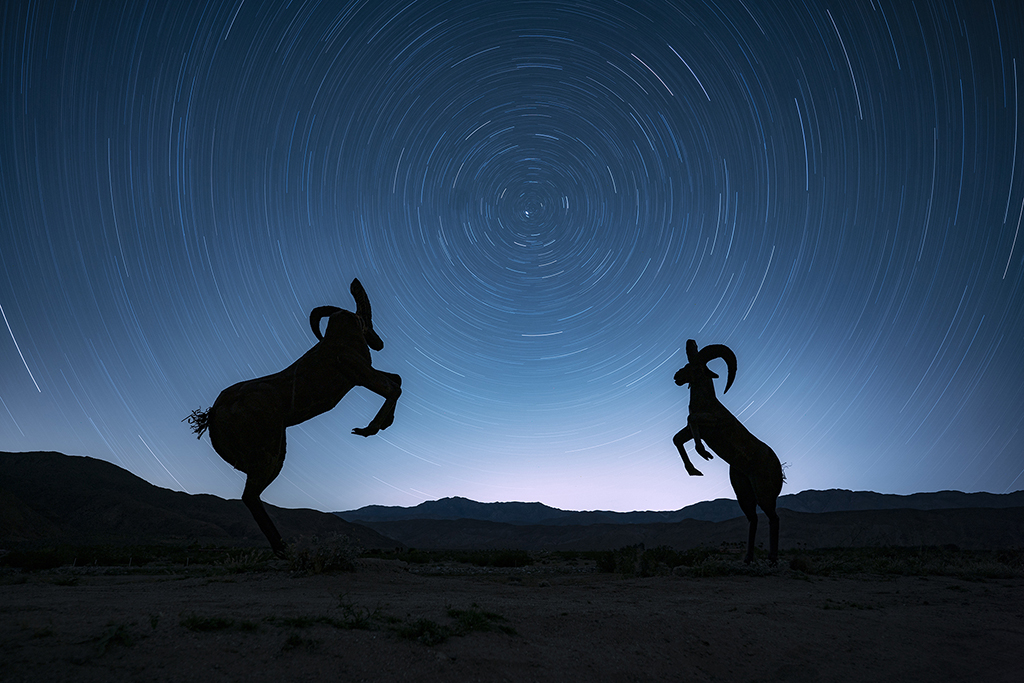 Learn proper techniques in capturing Polaris and the constellation Orion with Stan Moniz, a Sony ambassador and recognized professional photographer. A variety of techniques will be taught and explained in an easy to understand manner for any photographer who is interested in the art form of astrophotography.
The explanation of the 500 rule, light painting, star trails, nightscape portraits, and on site post-editing images in Adobe Lightroom and Photoshop will be covered on this fun-filled night under the blanket of the night sky.
Students will also have an opportunity to photograph the sunset side by side with Stan as he explains his techniques in capturing those precious moments in time.
We will meet just before sunset for a sunset shoot. After the sunset instruction, we will focus on full night photography, using different areas for change in background and scene.
Bring your camera and lens. "ALL CAMERAS WELCOME" Do bring a wide angle lens ranging from 11mm to 35mm. Headlamp and tripod. Cable releases, interval meter, memory cards, and extra batteries are other great things to bring as well.
Optional – Laptop with Adobe Lightroom and or Photoshop. Stan will be teaching on sight post techniques to improve your nightscape images.
And last but not least. Let's not forget an awesome attitude!
Instructor Bio:
Surf/adventure photographer Stan Moniz was a water baby at birth, raised in the quite surf town of Waialua, Hawaii. He became a professional body boarder at the age of 18 and remains an avid surfer today. His passion for music brought him to Southern California in 2000 and after a very successful career in a professional touring band, he ultimately set his sights on his other great passion: photography. In 2010, he reacquainted himself with his love for the ocean, adventure and capturing the beauty of the world we live in. Stan, now equipped with a camera, travels the Earth, capturing those timeless moments to share with the world. Stan has gained notoriety amongst his peers and clients as being a photographer that delivers and goes that extra mile. Stan is an educator at heart giving back to the community of growing photographers. Stan currently teaches surf photography and astrophotography at Samy's Photo School.